Management Policy
1. Basic Policy
The Company shall invest its assets to secure stable earnings and steady growth in the Investment Assets from the medium- and long-term view, aiming to maximize the NAF value of unitholders. We adopt two strategies: "Investment in accommodation assets" and "Utilization of the Mitsui Fudosan Group".
① Investing in Accommodation assets
From the viewpoint of stable demand and stable profits, NAF invests in accommodation assets, primarily rental housing.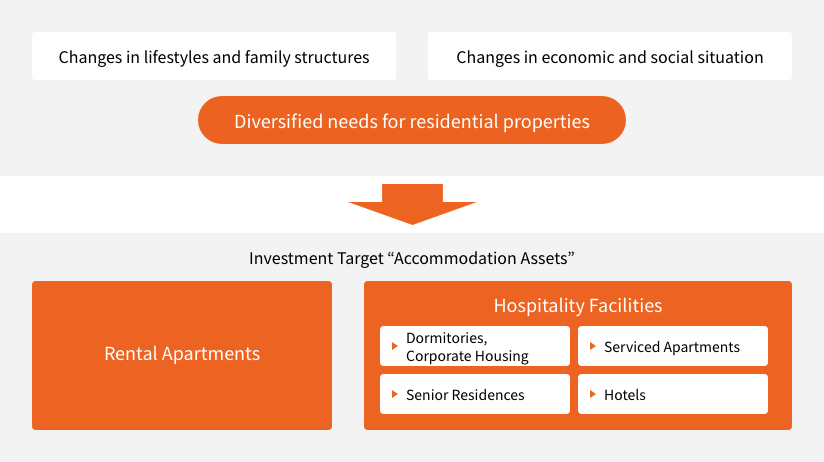 ② The Mitsui Fudosan Group's Value Chain
In order to achieve external and internal growth., utilizes to the full extent of comprehensive capabilities of the Mitsui Fudosan Group such as information gathering, planning/development and management/operation.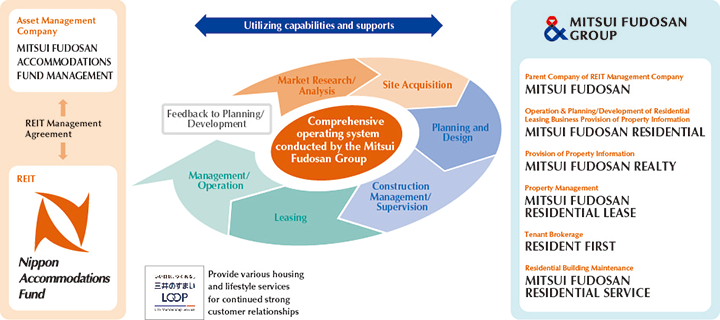 2. Information Disclosure Policy
NAF defines itself as an open, transparent investment corporation, and has a disclosure policy for public awareness. Moreover, NAF works to maintain an environment that encourages timely and accurate disclosure of unbiased information to all investors.
3. Sustainability Initiatives
Based on an awareness that achieving a sustainable society is essential for NAF's sustainable growth, the Company works to ensure asset management operations that consider the reduction of the environmental load and collaboration with various internal and external stakeholders.
In addition, based on an awareness that corporate governance is also a key issue, the Company works to ensure thorough compliance and the establishment of risk management structures.
When promoting the aforementioned issues, the Company refers to the various Group policies on sustainability prescribed by its sponsor Mitsui Fudosan Co., Ltd. and where necessary proceeds with the Code of Conduct for execution of asset management operations.